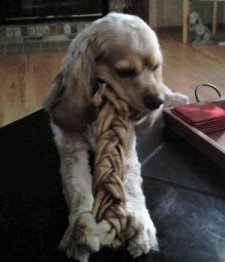 USA braided rawhide / beefhide chew treats for dogs
Internet Pet Supplies proudly sells USA made rawhide braided chew treats for dogs sizes, suitable for all breeds.
Internet Pet Supplies American Beefhide dog chew treats last longer, are a tastier chew, clean dogs' teeth, toughen gums, remove tartar.
We recommend close supervision the first few times you give your dog rawhide treats. If your dog is a "gulper" who generally swallows large chunks of food or other items, remove the rawhide treat when it becomes small enough to swallow.
Please note:
We are still one of the lowest priced retailers of USA RAWHIDE sold in bulk quantity. For comparison, we have computed the price of our products if purchased individually from other sources. Please compare!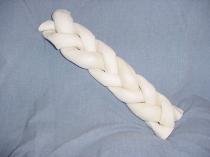 only
$2.20
USA Braid, Medium, 7-8in
add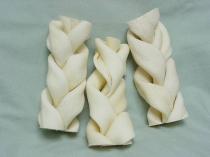 only
$6.60
USA Braid, Small, 3 - 4in, 10pcs
add