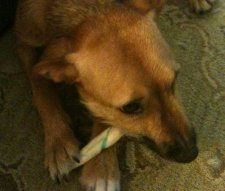 Minty rawhide chew treats to promote great oral hygene.
Everyone wants minty fresh breath and clean teeth, even dogs!
i-pets.com new dental chews are 1st grade rawhide infused with a minty fresh flavor. Your dog will love them and you will appreciate the fresher kisses.
These treats are imported from reputable Chinese manufacturers and are tested by i-pets.com to rule out chemicals and additives.
Read our policy on imported items